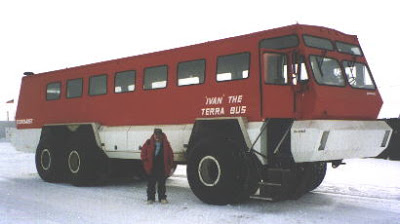 Today was actually the first time I got to ride on "IVAN" The Terra Bus. A picture is 1000 words. Here is the picture of the modern marvel. I exchanged light conversation with someone else who was also waiting for the shuttle while smoking a cigarette, who called Ivan the Cadillac of shuttles. hah. it is a luxurious beast. the inside has new fake wood paneling covers and the seats aren't even torn! Hell, the DELTA we rode in yesterday had nothing covering the door in the roof used to load cargo on the top racks. hah!
So was it all the fellow commuter made it out to be? Yeah, the ride was smoother, but also the roads were groomed so very well last night. The huge hole we bout fell into yesterday leaving work, was gone, all of them were! The driver was new, and had to try twice at each turn in town. Duh, the things about 50 yards long, you have to pull out further for turns or the poles will get taken down. hah. So I'm not sure if him being new had to do with the speed, or if that's the price of luxury.
Still. 36min to get to the runway today, vs about 53min yesterday... So, yes, our average speed was faster, but the roads were much better. Cruising speed, when we weren't hitting huge holes, seemed faster yesterday tho.
So anyway, that's my update. Pretty lame, huh? Told ya nothing exciting has been happening lately that's very Antarctic...